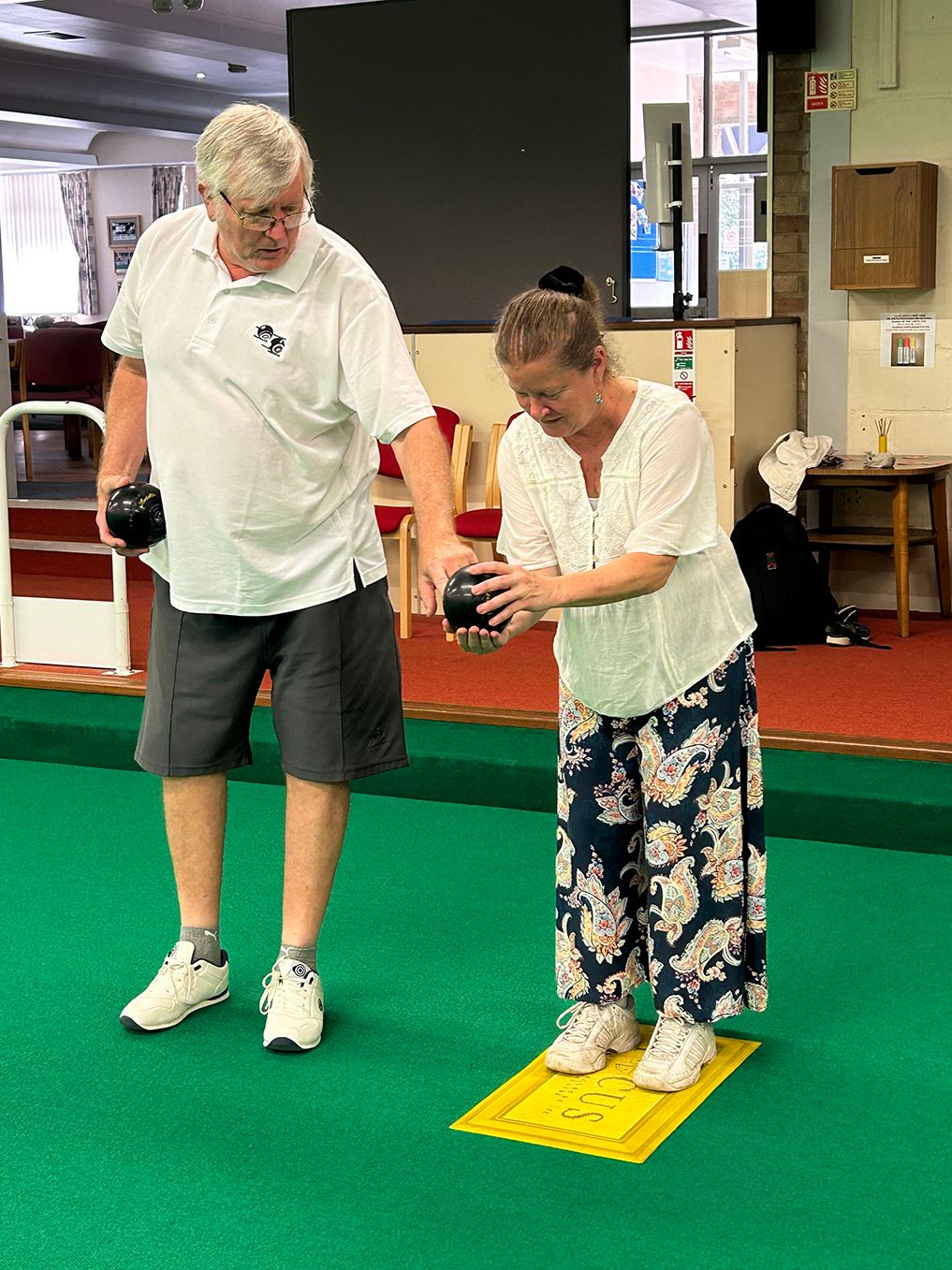 Images from left: Volunteer Nick, guiding Odette our CEO to play bowls; Centre: Ellie and Anne, preparing hot drinks in the kitchen for our members at our Social Eyes Club; Right: Eric, cycling and guiding alongside Ina, who is riding on a trike on an athletics track.
---
Make a difference volunteering for the visually impaired. Any help is really appreciated. For more information or to become a volunteer please email kab@kingstonassociationforblind.org or call 07442 394472.
You can download our Volunteer application form here.

Eye Buddies
Having a visual impairment can make ordinary tasks like shopping, filling in forms and reading the post very difficult and being visually impaired can make people feel isolated and lonely, especially if they have problems with mobility. That is why we have Eye Buddies, who are volunteers who help people with tasks like reading their post, going shopping, or going to medical appointments and chat to people in their own home, take them out, describe objects at a museum, or simply have a coffee together. If you are keen on the role of an Eye Buddy, contact us and we will train you and introduce you to someone who needs a Buddy to support them.

Club and Outing Volunteers
We need volunteers at our social clubs to welcome people, make drinks, serve lunch, arrange rooms for our meetings, help people move around, complete quizzes, chat and make sure everyone is safe etc.
Our popular social Clubs are held at the Kingston Quaker Centre in Kingston and include the fortnightly Social Eyes club on Tuesday afternoons and Lunch Club on the last Friday afternoon of each month.
Lunch is provided and the activities include craft, gentle exercise, and quizzes. We also go on outings, such as to the seaside, Kew gardens etc where we also need sighted guides for our members.

Lawn Bowls, both outdoors and indoors Volunteers
We hold indoor bowls sessions at King Georges Bowls Club, Jubilee Way, Tolworth from October to April on Thursday mornings, and outdoor bowls at Hook and Southborough Bowls club, next to Kingston Rugby club, Hook Road, Hook, on Tuesday afternoons. Whether you are an experienced bowler or not, your help would be invaluable, as training would be provided.
Ten Pin Bowling Volunteers
We hold Ten pin bowling on a Monday morning, fortnightly, at Hollywood Bowl, Tolworth and volunteers assist the Visually impaired bowlers.
Tandem Volunteers
Experienced cyclists are needed to be pilots (front riders) on tandems provided by KAB. This enables visually impaired people to enjoy the pleasure of cycling.
Cyclists do not need experience of riding tandems as training will be provided - but experienced tandem cyclists are also very welcome. Volunteers are also needed to undertake simple maintenance, mending punctures, etc.
Tandem sessions are held on Monday afternoons with Wheels for all Kingston, at Weir Archer Athletics Centre, Jack Goodchild Way, 422a Kingston Road.

Transport Volunteers
Using public transport can be challenging for the blind and visually impaired. Unfortunately, this prevents some of our members from attending our activities. This is why we need drivers to help members get to our premises at the Kingston Quaker Centre and to the sports and leisure venues. If you would like to volunteer but you don't have a car, we are also looking for people who are able to pick members up from their homes and accompany them via train or bus. Training on how to guide the blind is provided.

Fundraising Volunteers
We are looking for someone who can broaden our fundraising efforts, someone passionate about blind and partially sighted people's health and wellbeing, with a commitment to helping KAB achieve its income goals. The Fundraising tasks could include helping with applying for grants, holding fundraising events, helping on market stalls and bucket collections to raise funds and promote the charity.
Information Technology Volunteers
We need someone who can provide support with any tech issues. This may include home visits or over the phone, support with the implementation and use of assistive technologies to meet accessibility needs and ensure security and privacy of networks and computer systems. If you have good tech skills and/or knowledge about assistive technology, this is the position for you.

Trustees
You can also apply to become part of our board of Trustees as KAB is looking to recruit new trustees to ensure our charity remains sustainable, relevant and effective in a rapidly changing landscape so that we can continue to serve and be the voice of the visually impaired. For the trustee roles we are particularly keen to hear from people whose specialisms are Equality, Diversity and inclusion, Finance, Fundraising, Legal, IT, Digital Communications and HR. We're also interested in reaching out to younger people who could bring new ideas into the organization by being trustees.
Kingston Talking Newspaper volunteers
The Kingston upon Thames Talking Newspaper brings any visually impaired person in our borough a free weekly digest of local news and information on a memory stick. Currently there are over 100 weekly listeners.
How can you help?
Volunteers are always needed to read and produce the Talking Newspaper. In particular, volunteers are needed to get involved in the transportation of the pouches and logging the returns stages on Thursday afternoons and the copying and transportation on Fridays. If this is the role for you please contact Brian Gaff on email ktnews@blueyonder.co.uk or telephone on 0208 287 4180.