---
Working Age Forum (WAF), Vision Foundation, September 2023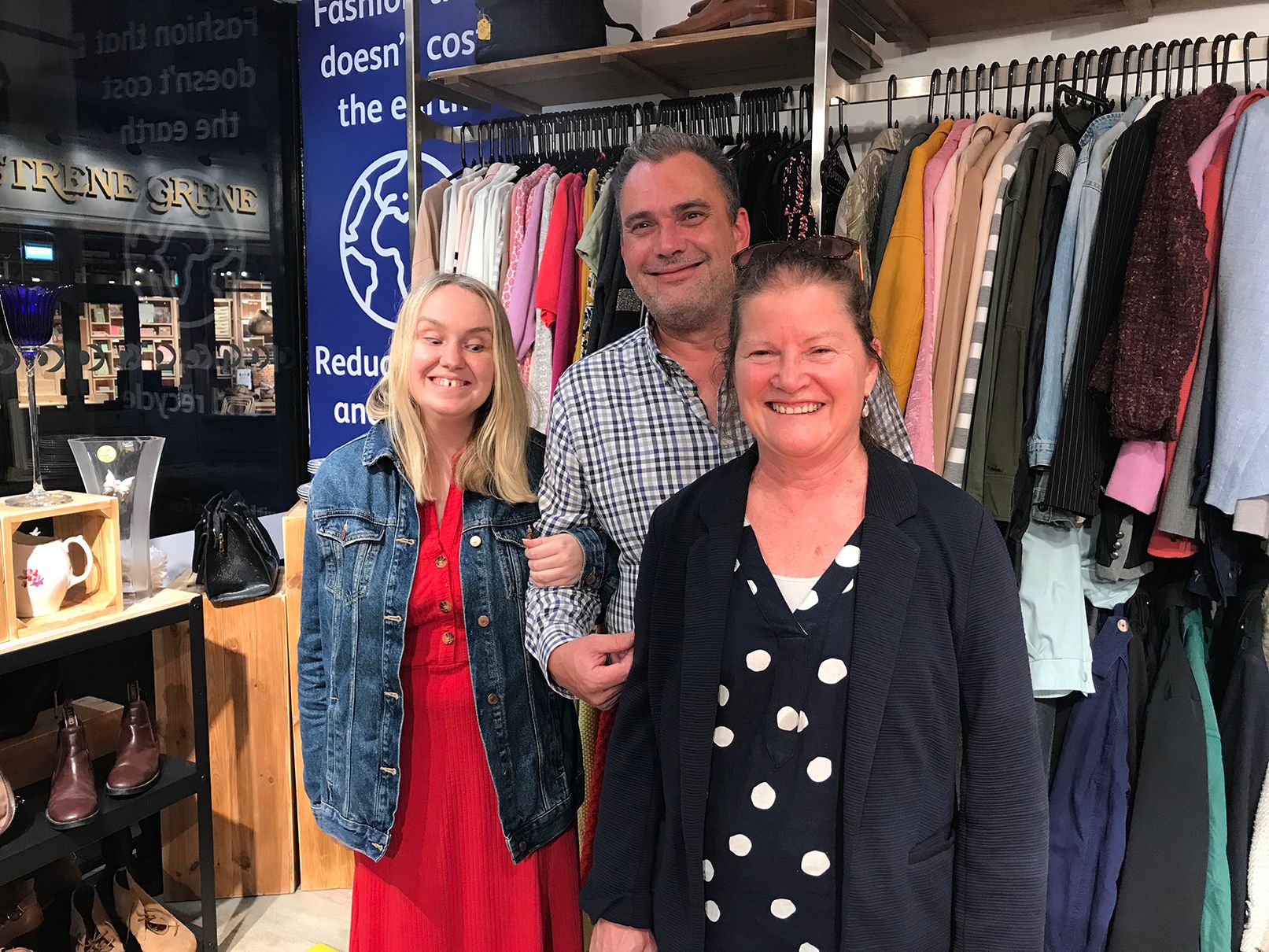 Images from left: Odette, our KAB CEO, smiling with two other visiting members for the September Working Age Forum in the Vision foundation shop, Kingston. There are clothes racks behnd them and the shop window is on the left. Right: Odette with a large group of visiting members all smiling towards the camera. They are also standing within the Vision Foundation shop.
---
RBK Volunteer Fair July 2023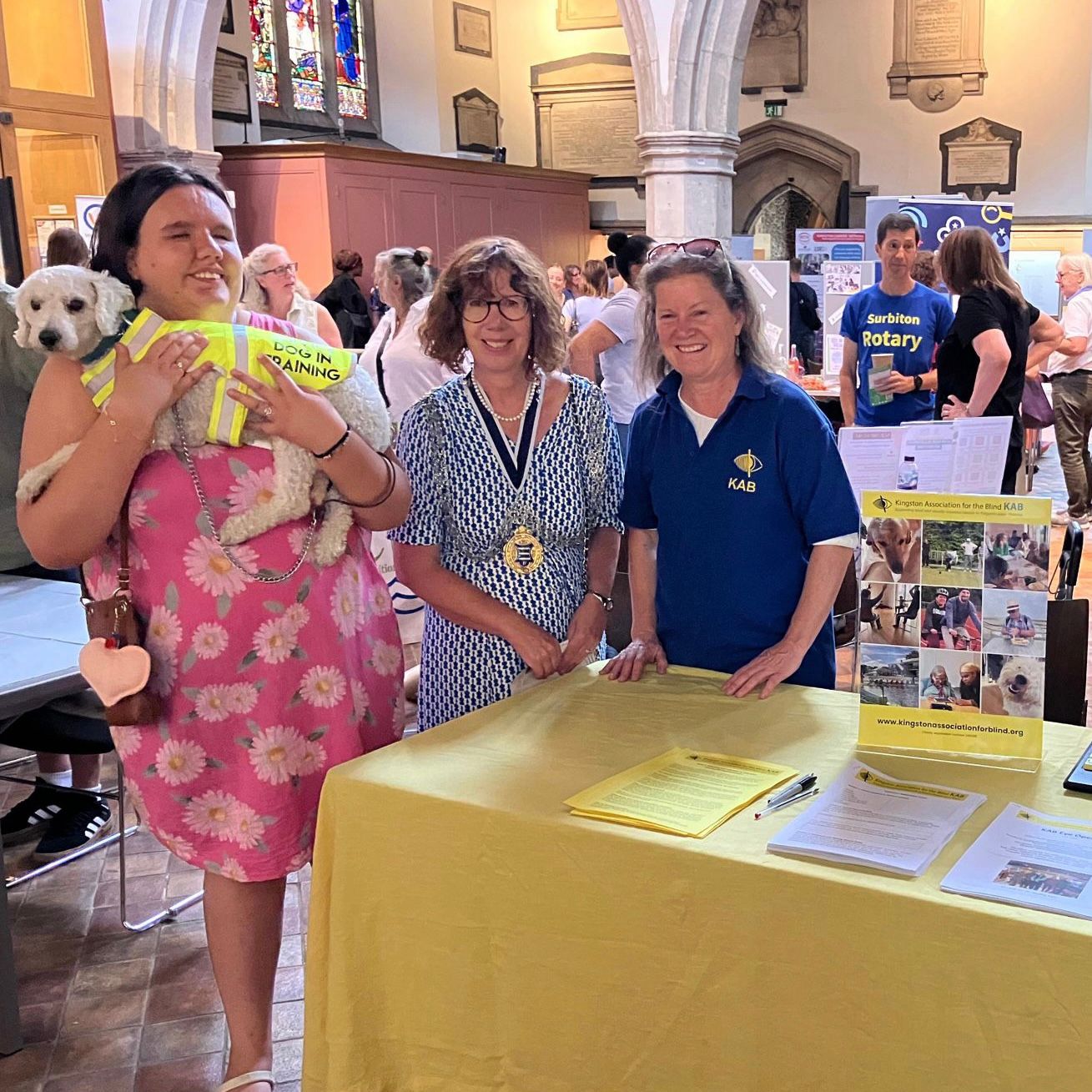 Images from top left: Standing on front of the KAB stall within All Saints Church is Ina holding her white service dog Doodle, she is standing next to the Mayor of Kingston, Diane White who is wearing her Mayor medal. Next to Diane is Odette KAB CEO, wearing a blue KAB t-shirt. Top right: Jo, our Trustee is next to the KAB stall with Dot, her guide dog at her feet.
Bottom left: Ben, who is supporting Ina for the event, standing next to a tree costumed member of the Save The World Club. Next to him is Ina smiling. Bottom right: Ina with a member of the Voices of Hope charity.
---
KAB Annual General Meeting June 2023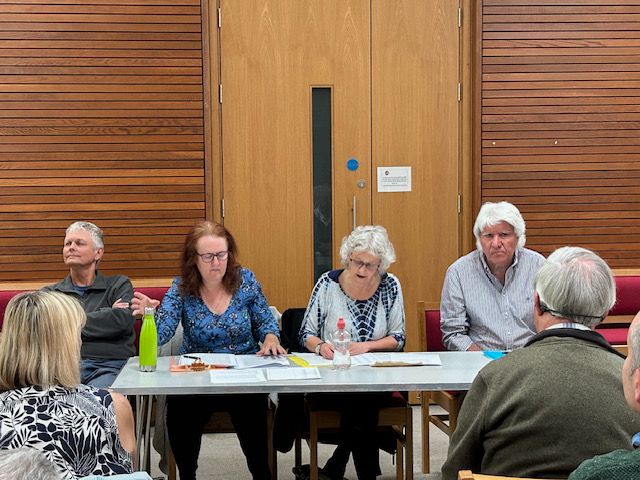 Images on top row from left: Our KAB Trustees; Kevin, Anne, Ellie and Chair Roy, speaking to the member audience. Centre: The KAB members seated in the Quakers Centre meeting room. Top right: Our guest speaker, blind actor Liam O'Carroll.
Bottom row from left: A fascinated KAB audience listening to our guest speaker Liam. Centre and right: Lunch is served to the members in the meeting hall.
---
KAB Digital Drop-in session March 2023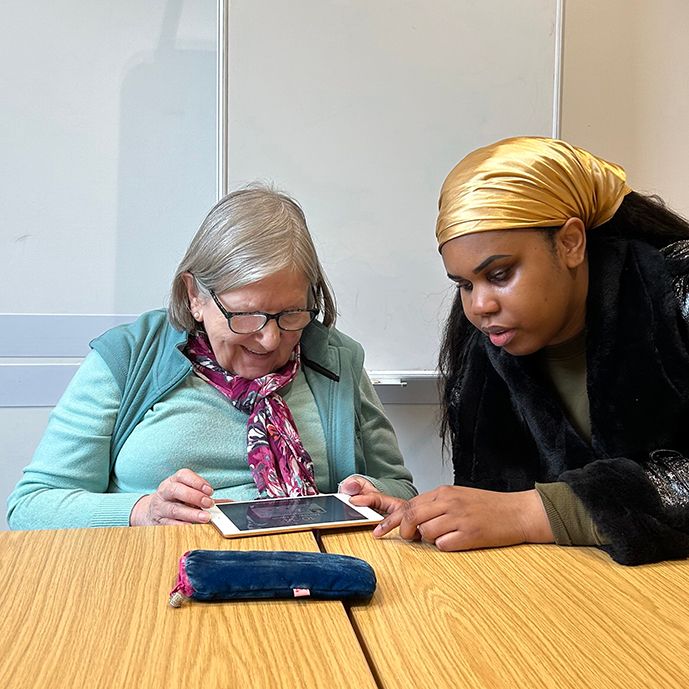 Our digital session for March was to teach members accessibility features on their devices. From Left: Monique (KAB admin officer), on the right in a headscarf, showing a KAB member features on her iPad; Centre: Monique speaking to KAB participants; Right: Ina (KAB Comms Officer), helping a member use Voiceover on her iPhone.
---
KAB Warm Space Lunch Session February 2023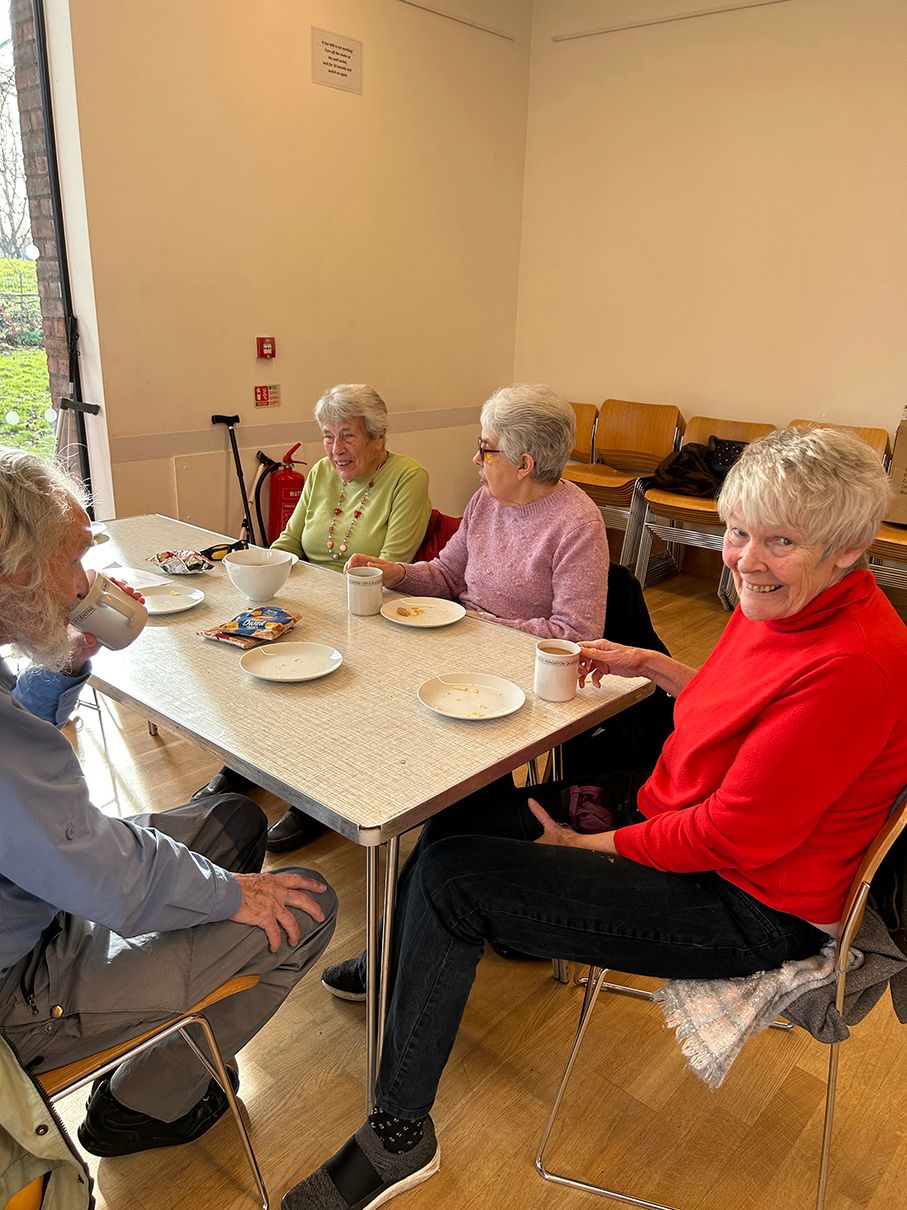 Images show KAB members enjoying a light lunch and quiz at the Kingston Quaker Centre. The attending guide and service dogs were having a sociable time too!
---
KAB Annual Christmas Lunch 2022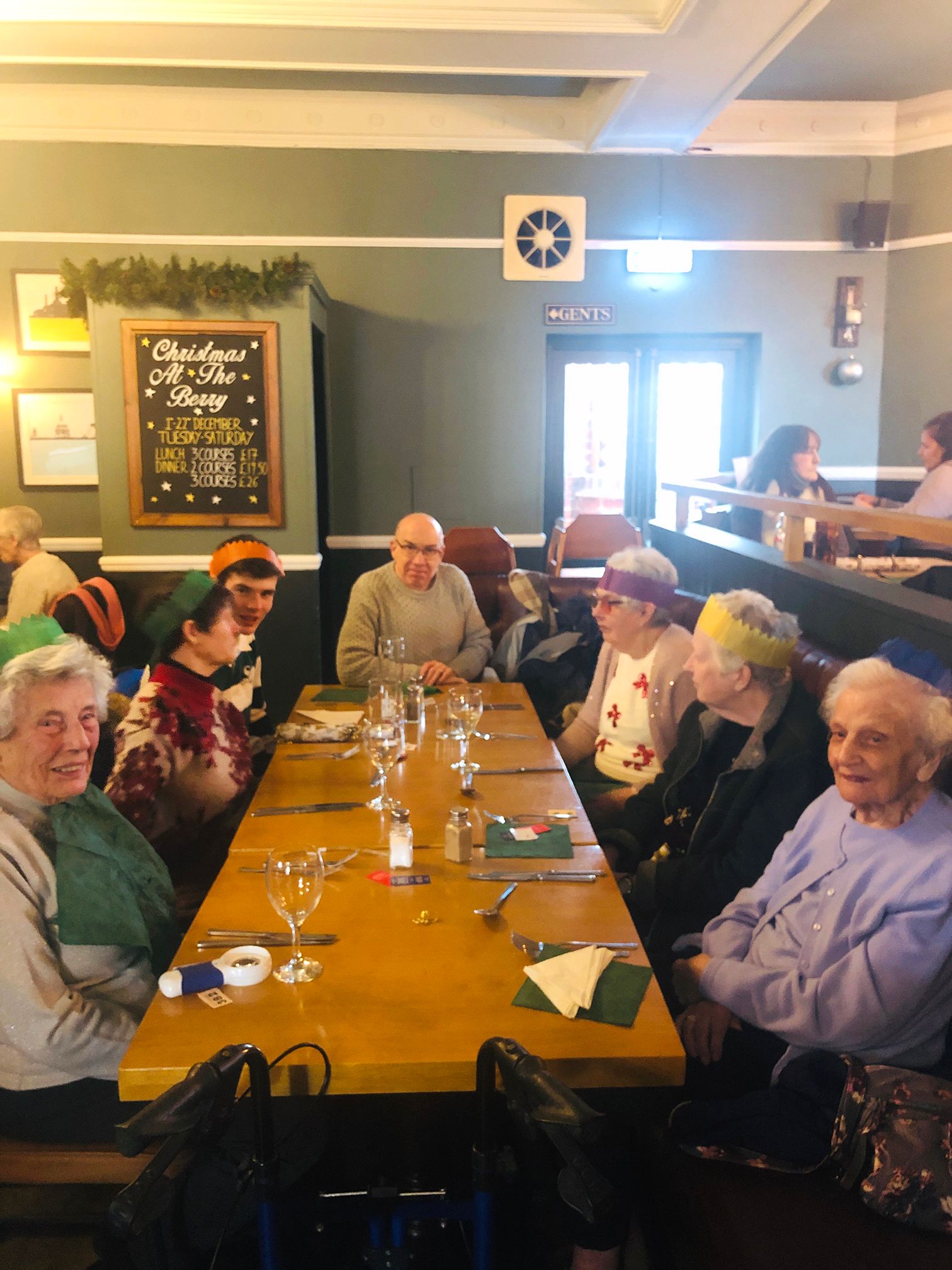 Images of the KAB members, volunteers and family sitting on long wooden tables, enjoying a delicious Christmas lunch and a raffle afterwards in the welcoming Berrylands Pub.
---
Dragon Boat visit 2022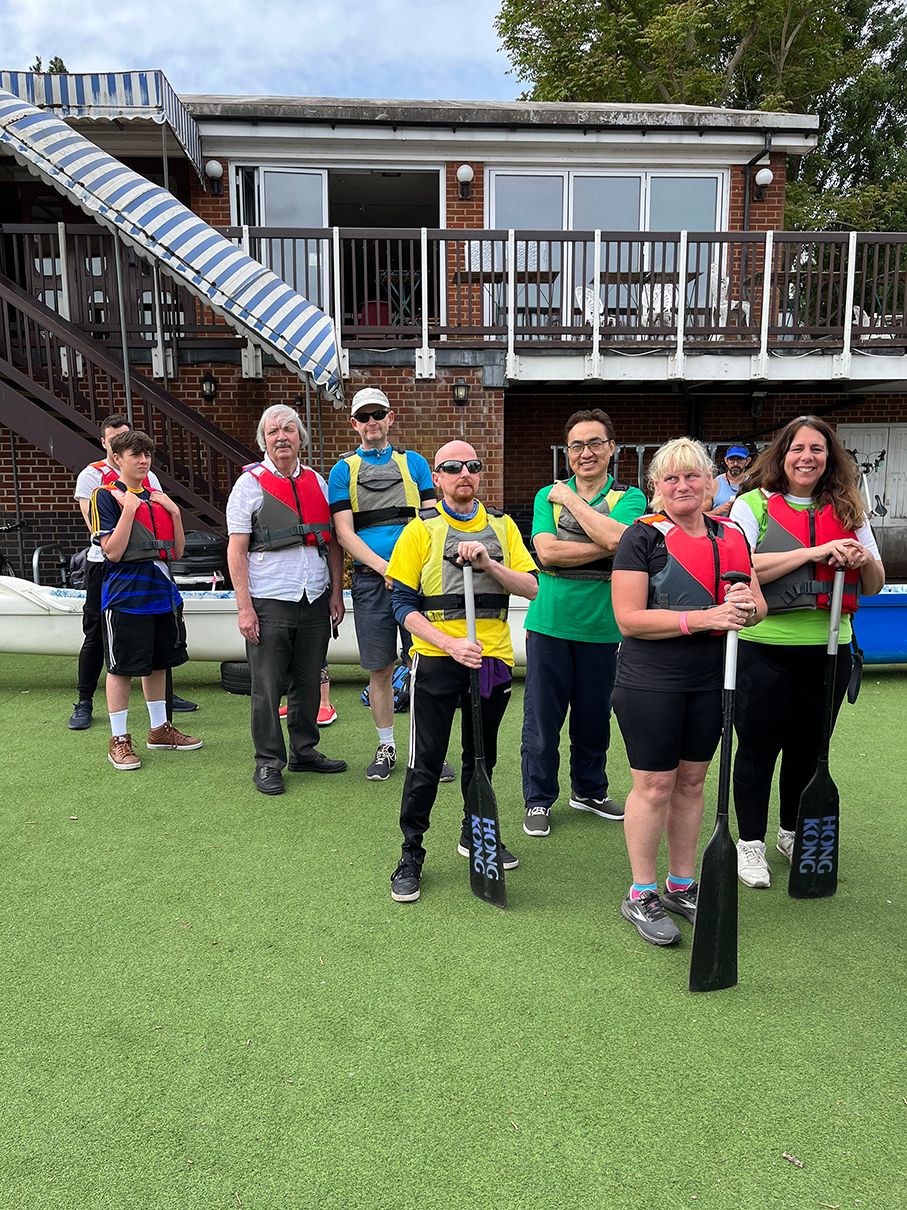 Images from top left and right: Our smiling members wearing their safety jackets and with rowing paddles ready to go on the Dragon boat.
Bottom left: Our members being briefed by the instructor before going on to the boat. Bottom right: KAB members rowing on the river!
---
Disability Awareness Day 2022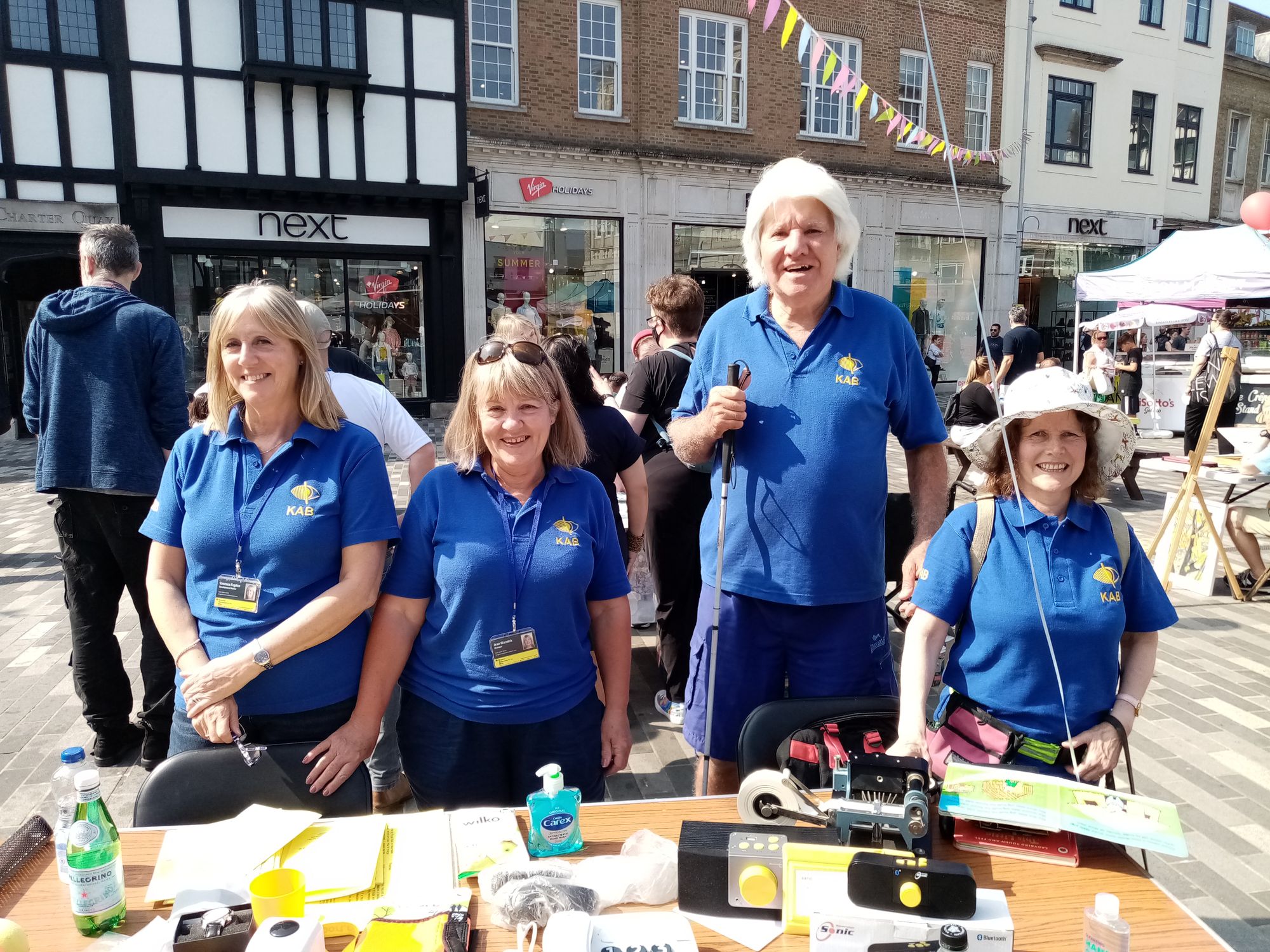 Left: KAB staff and volunteers wearing dark blue KAB t-shirts standing behind the KAB stall in Kingston town centre. Right: KAB joined by members of the public plus the Mayor of RBK, on Disability Awareness day.
---
KAB Littlehampton Summer Outing 2022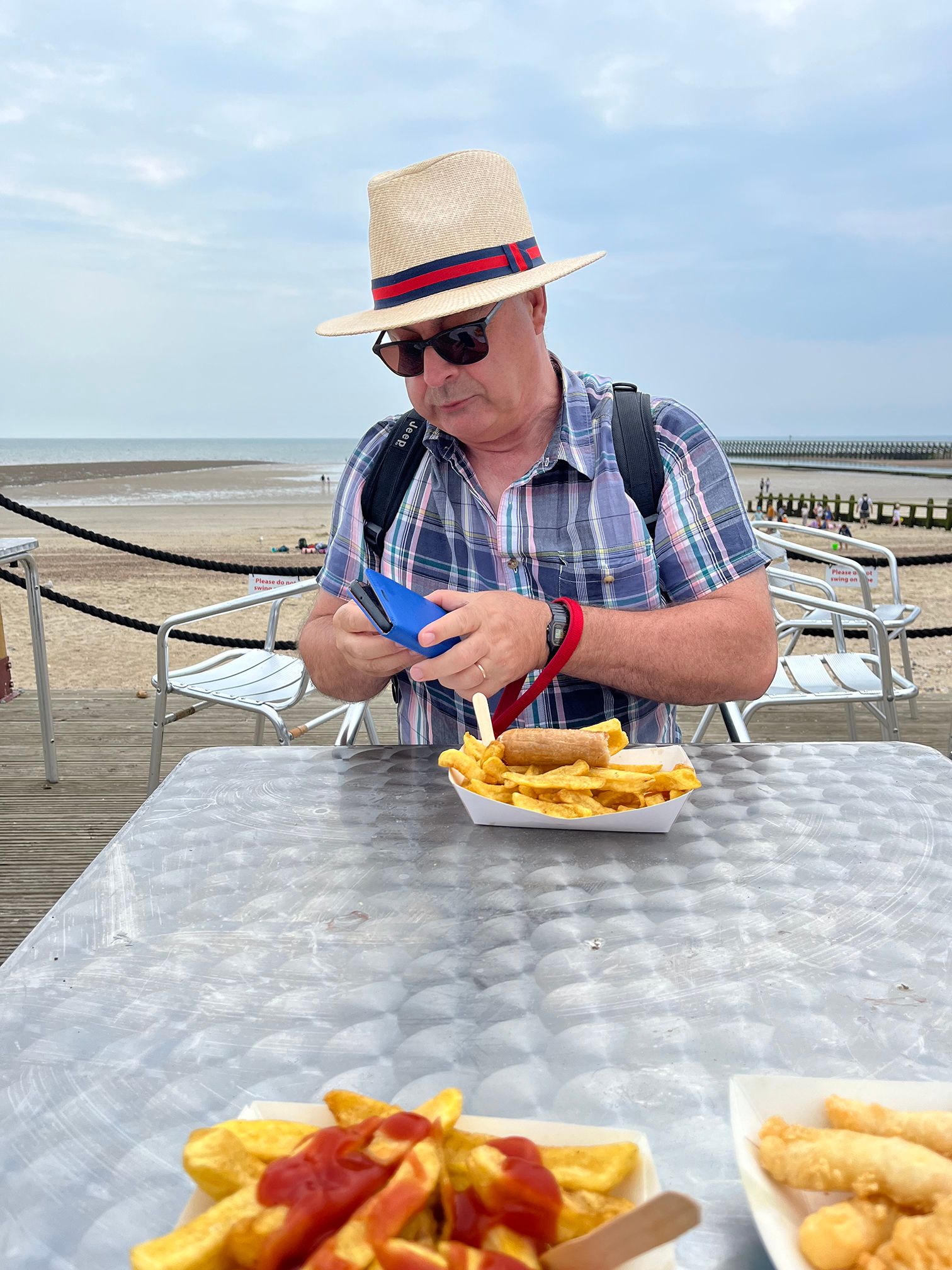 Images show KAB members and volunteers enjoying a fish and chip supper, coffees and ice cream next to Littlehampton beach.