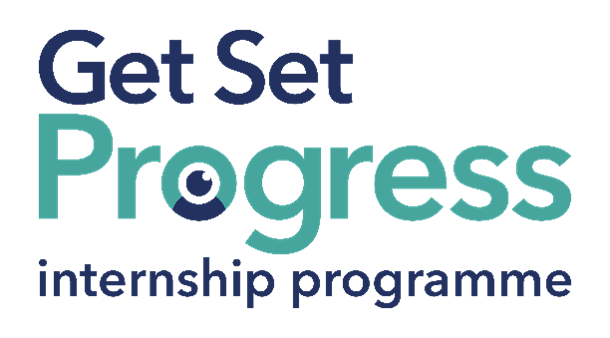 KAB Administration Intern
Join us at the Kingston Association for the Blind
Thomas Pocklington Trust (TPT) and RNIB are collaborating with charities in the sight loss sector to create new opportunities for blind and partially sighted people to find employment through the Get Set Progress Internship programme Kingston Association for the Blind is delighted to be offering an internship as part of the Get set Progress scheme.
Kingston Association for the Blind is a small, ambitious charity, whose Mission is 'To empower people living with sight loss, to lead independent and fulfilling lives in the Royal Borough of Kingston.' Our ambition is to improve the lives of people living with sight loss in the Royal Borough of Kingston
What are the benefits of a Get Set Progress internship for me?
As part of your 9 month internship you will gain the following:
• obtain valuable work experience within the charity sector
• Training opportunities
• A mentor offering support, advice and guidance throughout
• help deliver positive changes for people with sight loss
As part of the GSP Internship programme, you will also be enrolled onto the TPT Employment Programme, where you will gain employment support, guidance and advice from their Employment Team, skills obtainable are:
• CV writing
• Job searching
• Cover letter and speculative letter writing
• Application form writing
• Interview techniques
Job description
Role: KAB Administration Intern
Reporting to: CEO
Location: In the office in the Kingston Quaker Centre and out and about, in the community of the Royal Borough of Kingston Upon Thames.
Salary: Based on Living Wage Foundation rates,
Contract type: Fixed Term 9 months, full time 36 hours per week
Job purpose:
Imagine working for a charity whose purpose is improve the lives of Visually Impaired people of all ages and backgrounds across the borough. The Intern will be supported to build on existing skills, develop new skills, and gain real life experience working alongside, staff and volunteers, to improve the quality of life of local Visually Impaired people. The post of Administration Intern is a new position to support the growing charity. The Intern will be equipped to assist with ensuring the smooth operation of the charity office. The position provides support to the staff, volunteers, board of trustees, day-to-day office administration and reception. The Intern needs to be well organised, with excellent time management skills, systematic, proficient in Microsoft packages, and with excellent communication skills.
Although the team is small, we have big ambitions to improve the lives of people living with sight loss in the Royal Borough of Kingston, and we are passionate about the members we support. The ideal candidate will be committed to contributing to KAB achieving its mission, be motivated, and self-confident
This post has a Genuine Occupational Requirement that the successful applicant be a blind or partially sighted person in line with The Equality Act 2010.
Key areas of responsibility
Office administration
• Membership database: Maintain database and produce reports when required.
• Meetings:
o Assist with organising meetings and booking rooms as and when required.
o Take minutes at meetings as required.
• Filing:
o Digital and hard copy filing to ensure filing is up to date and complete.
o Review data in filing systems to ensure GDPR adherence and then shred/delete data as required.
• Maintain office supplies and resources: Update inventory of supplies and order resources required for staff or activities.
• Enquiries: Act as the point of contact for enquiries, responding in a timely manner.
• Health and safety records: Assist with maintaining H & S records including risk assessments, insurance, accident register and other Health and Safety requirements.
• Support activities/clubs: Assist with contacting participants and volunteers, booking venues, organising refreshments, and helping at clubs/events/ activities if required etc.
Finance:
• Petty cash: Hold petty cash, maintain records, ensure all payments and receipts are evidenced In line with KB finance procedures.
• Accounts: Liaise with bookkeeper to ensure accounting system is up to date and accurate, ensure backup documentation is scanned, filed, and attached to each record on QuickBooks.
• Payments: Organise payment of suppliers for authorised invoices in line with finance procedures.
General:
• Cover for other members of staff in their absence.
Person specification
The successful applicant will possess the following skills:
Desirable
• Administration: Ability to provide administrative support.
• Customer services: Ability to manage phone and/or written enquiries, in a timely manner to the satisfaction of the recipients.
• Communications: Excellent verbal and written communication skills, able to communicate with a wide range of personnel.
• Focus: Ability to remain calm, productive, and focused, in a busy environment.
• Committed and highly self-motivated with ability to work on own initiative and as part of a team.
• Organised: Excellent organisational, planning, time management skills and ability to work under pressure with competing priorities to ensure goals and deadlines are met.
• Attention to detail: Accurate with meticulous attention to detail.
• Computer Literacy: Proficient in use of Microsoft packages including Word, Excel, Access, and Outlook.
• Finance: Ability to use accounting system, and pay expenses and suppliers
• The successful candidate will be able to travel independently and be comfortable working around guide dogs.
Essential criteria
• Lived experience of sight loss
How to apply
To apply submit a CV via email to Kevin White at vicechair@kingstonassociationforblind.org
Closing date is 5pm on 31st October 2022.