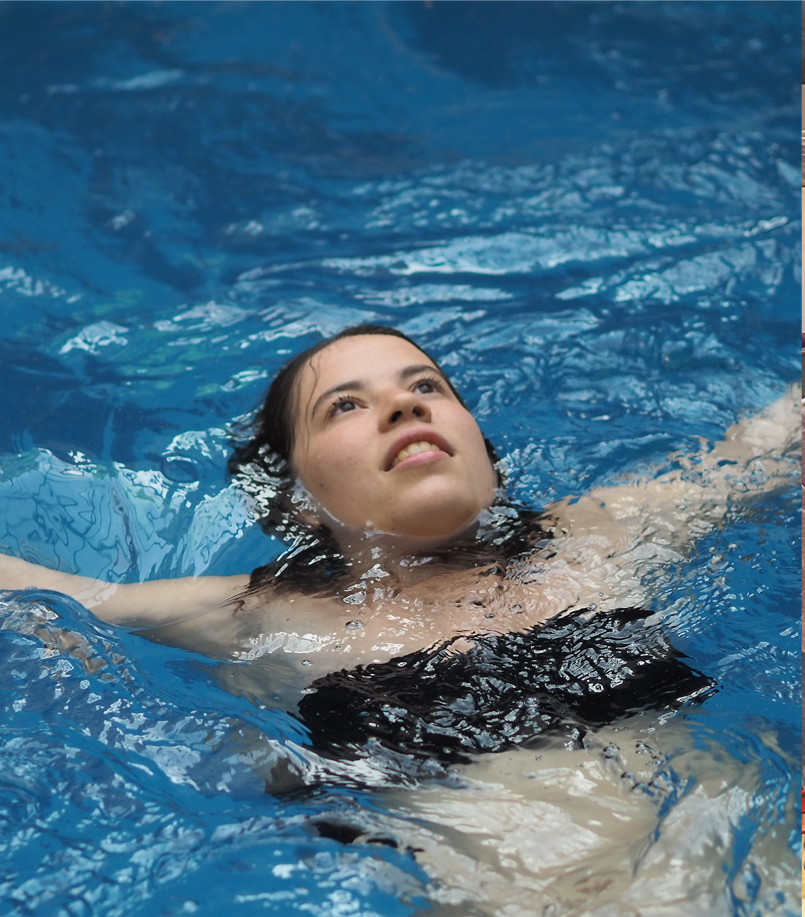 Images from Left: A dark haired girl swimming backstroke and smiling in a pool; Sheila and a sighted volunteer smiling and waving while riding a side by side tandem bike; Odette in a yellow t-shirt with a football at her feet being instructed by a football coach, who is wearing black football gear. They are standing on a grass football pitch.
KAB Clubs
Kingston Association for the Blind run the following clubs for blind and partially sighted people living in the Royal Borough of Kingston Upon Thames.
For bookings and more information about our clubs please call 0208 605 0060, or email adminkab@kingstonassociationforblind.org.
Social Eyes - Alternate Tuesdays 1:30 - 4:00 pm, Quaker Centre, Kingston.
Lunch Club - On the last Friday of the month, 12:30 - 3:00 pm, Quaker Centre, Kingston.
Football Club - Saturdays, 10:45am – 11:45am, term-time only.
Tandem and Adapted Cycling Club - Mondays, please note we have a new time for the session 1:00pm – 1:45pm, excluding Bank holidays.
Bowls Club - Thursdays fortnightly, 10:00am - 12:00pm.
Ten Pin Bowling - Mondays, excluding school and bank holidays. 11:00am - 1:00pm 
Swimming Club - 1-1 Swimming lessons for beginners, or for those who would like to improve are available by arrangement. Please phone or email the office for more information and to book.
Tandem Scheme -   The Association has 3 of its own tandems and also has front and back riders who go out using their own tandems.  
For our activities calender, see What's On
---
Social Eyes
The Social Eyes Club is a wonderful place to make friends and have a lovely time with the opportunity to enjoy various entertaining activities; from a gentle chair-based exercise programme, quizzes, crafts and the occasional outing.
Funded by The Royal Borough of Kingston Upon Thames
---
Lunch Club
The Lunch Club offers a warm space for people to have a light lunch and to socialise with one another. After lunch, served by our volunteers, there is a usually a quiz, where members form into teams and a sighted volunteer writes the answers down on their behalf. The Club is very popular among members as they feel it is very welcoming.
---
Football Club
Two sessions run at the same time on Saturdays, 10:45 to 11:45am. They are for juniors (5-16 years) and adults. Sessions take place in a huge indoor bubble using audio balls and are supported by a team of coaches and volunteers.
How is visually impaired football different from sighted football? While the core game and principles remain the same as sighted football, there are a few alterations to make football accessible to people with visual impairments:
There are normally 5 people per team: 4 blind outfield players and 1 sighted goalkeeper.
Ball bearings are placed in the ball which makes a noise when moving to allow players to locate the ball.
The game is played on an indoor pitch so that the sound of the ball is more distinguishable.
Officially, there are two different versions of football for people with sight loss, namely, 'Totally Blind Football' and 'Partially Sighted Football'. However, KAB football is so inclusive that anyone can play, no matter the percentage of sight you have.
Taking part in visually impaired football is a great way to be active and meet other people with sight loss. Whether you are a beginner or an experienced player, the Football Club will be happy for you to join.
It takes place at Fulham FC Training Ground, Motspur Park, KT3 6PT. For more info and to book visit soccerschools.fulhamfc.com.
---
Tandem and Adapted Cycling Club
Riding a tandem bike as a passenger is very like riding a horse: both parts of the team, the passenger and sighted driver, work and pedal together to go forward.
You must put your full trust in the driver's skills. It's all about surrendering the control of your life to a cyclist who will keep the balance and will turn left and right when necessary.
Another option within the session is to ride a tricycle which you steer independently. The rider does not need to worry about balance as the three wheels support the seat, similar to a car seat. A volunteer rides beside the person on the tricycle and tells them where to go.
There is also another style of tandem which is called a Side by Side, consisting of a bicycle that seats one beside the other. Both passenger and volunteer ride together, one next to the other, in order to go forward.
Tandem takes place at Wheels for all Kingston, Weir Archer Athletics and Fitness Centre.
---
Lawn Bowls
Lawn Bowls was established in 2010 and initially was played indoors at King Georges Field on a monthly basis. During 2014 we became members of The Hook and Southborough Bowling Club and started playing weekly outdoors during the summer months.
We are pleased to announce that the KAB Indoor bowling sessions will run fortnightly on Thursdays, 10:00am to 12:00pm. The Club meets at the King George Field Indoor Bowls Club, Jubilee Way, Chessington, KT9 1TR. Cost: £5 per session. Food and Drink is available there.
During the Spring and Summer the Club traditionally meets at Hook and Southborough Bowls Club Chessington (dates tbc for 2024).
We are happy to play friendly local matches, either home or away, with visually impaired or sighted teams.
Funded by The Royal Borough of Kingston Upon Thames
---
Ten-Pin Bowling
Ten-Pin Bowling is a sport in which a player rolls a bowling ball on a wooden or synthetic lane to knock down pins. The wooden lane measures around 105 centimetres wide and 18 meters long.
For scoring, there are three kinds of marks:
A strike, when all the ten pins are down during the first ball
A spare when all the pins are knocked down by the second ball
And an open, when there are still pins standing after the second ball.
In bowling for people with sight loss, volunteers say the scores out loud whenever a player rolls the ball.
The Club meets at Hollywood Bowl, Charrington Bowl, Kingston Road, Tolworth, London, KT5 9PB. The cost is £5 per week and 2 games are played. Please wear flat, closed toe, non-marking soled shoes.
---
Swimming Club
Beginners and Improvers
Our Swimming Club consists of lessons for beginners or for those who would like to improve. These 1-1 sessions are very gentle and participants are not forced to go beyond their boundaries. It is a gentle experience with the purpose of becoming confident in water.
Places are limited, so please phone the office to pre-book and discuss any needs you may have. Members who are new to the session will need to fill out a form which must be signed by your GP.
In association with Spartans Swimming Club. New Malden Leisure Centre, Training Pool, New Malden, KT3 4TA.
Sessions for Accomplished swimmers
Sessions are in association with Spartans Swimming Club and need to be prebooked. All members new to the session need to fill out a form signed by their GP, please phone or email for further details. Sessions are £2. At New Malden Leisure Centre, Main Pool, New Malden, KT3 4TA.
---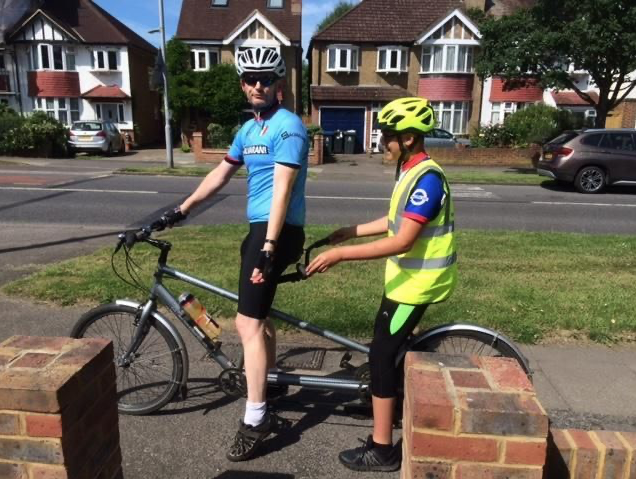 Tandem Scheme
The Association has 3 of its own tandems and also has front and back riders who go out using their own tandems.
We are seeking to recruit more front riders to enable visually impaired back riders to go out more often.
Front riders do not need to be experienced tandem riders as KAB will provide training, but do need to be experienced cyclists.
Volunteer front riders are matched with a client who wants to do similar distances and speeds. This can range from an hour cycling around the park to a whole day out. KAB provides protective helmets and a warning tabard for the back rider.
To further information or to book one of the Tandems, please phone our KAB office on 0208 605 0060, or email us at adminkab@kingstonassociationforblind.org